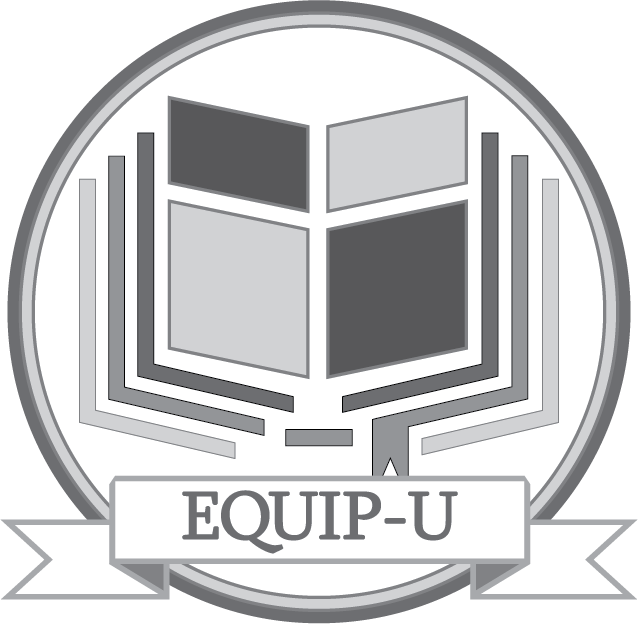 EQUiP University consists of three courses, designed to be finished in one year. This certificate will help students gain a greater knowledge of discipleship, theology, and how to study the Bible. During the training, time will be spent focused on personal time with God, developing spiritual gifting to aid the church, sharing the Good News with others, the study of God, and how to study the Bible.

Equip-U certificate program
3 Courses:
intro to discipleship
Course Description:
How do we live as disciples of Jesus? If God wanted, He could have taken you up to heaven as soon as you became a Christian. But He didn't. He has a plan for you. This class will introduce you to how you can participate in the work God is doing in His world.
Objectives:
Relate biblically, theologically, and practically to the fulfillment of the Great Commission.
Demonstrate an understanding of discipleship at Old Fort Baptist Church.
Learn about the importance of discipleship and how to incorporate discipleship into the way you study God's Word, relate to one another at church, and live life with Gospel intentionality.
How to study the bible
Course Description:
As a professing Christian, you believe the Bible, but do you know why you can trust the text? There are different ways to interpret the Bible and that will impact what a person believes. This class will introduce the basic principles of Bible interpretation to help you strengthen your Bible study, your love of God, and your confidence in understanding the meaning and significance of the Bible.
Objectives:
Explain the role of the author, text, and read in the interpretive process.
Display competence in determining the meaning of a text.
Develop an understanding of how to interpret different forms of literature in the Bible.
theology
Course Description:
So you say you're a Christian, but what do you actually believe? This class will equip you with a greater understanding of the doctrines of the faith and help you to answer some of life's biggest questions.
Objectives:
A comprehensive study of the major doctrines of the Christian faith.
An examination of the doctrines of revelation, God, Christ, Spirit, salvation, creation, humanity, sin, the church, and end times.
A better understanding of theology to strengthen one's personal spiritual formation.
In-Person and Online Options:
Currently, classes will be held on-campus. Please check back for information or inquire about online class availability.
Time Commitment:
Average time to complete each course: 12-14 weeks
Class time: 90 minutes per week
THIS SUMMER:
DIS101: Introduction to Discipleship taught by Dr. Charles McCallum
BIB101: How to Study the Bible taught by Dr. Jonathan Watson
equip groups
Sunday night Equip group studies are no longer being offered during this time. Please see our Groups page for available small group studies.